An outdoor Advertising LED Screen or event rental LED Screen with a very high brightness will leads to a good image performance display? Some clients are loving to require a high brightness value like 7000 nits or 8000 nits. The fact is that outdoor LED video display with a higher brightness will not always delivery a better visual performance.
Human eyes are sensitive for the difference brightness between a display brightness and the environment brightness.

So when it comes to outdoor LED video, contrast and brightness are key to fighting ambient light and creating sharp, high-resolution image quality.

Black surface outdoor LED display module VS white surface outdoor LED display module.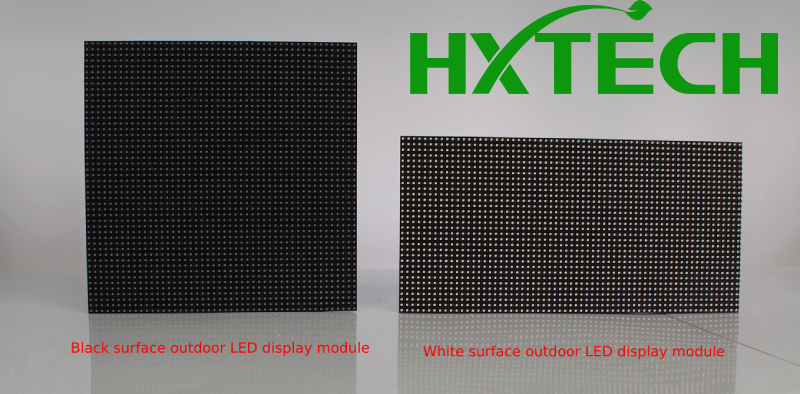 White surface outdoor LED display under direct sunlight VS black surface outdoor LED display under direct sunlight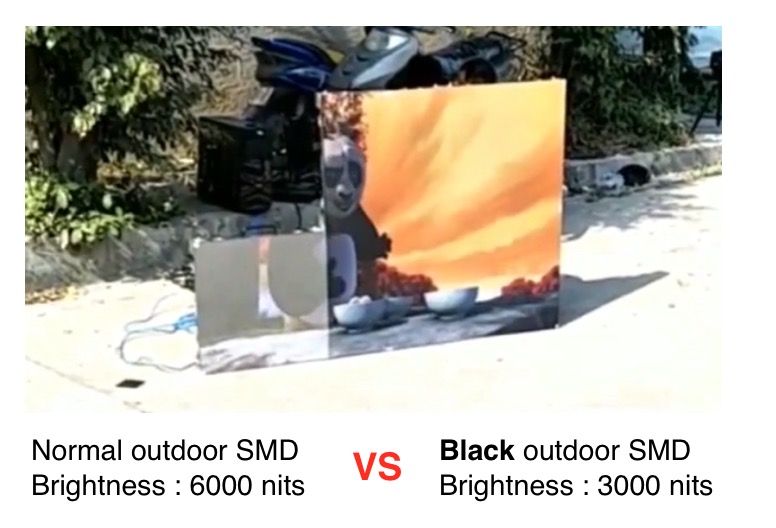 What benefits can black SMD bring to your outdoor display?

higher contrast & low lower reflectivity
The black package offers significantly higher contrast with lower reflectivity than comparable white- package SMDs. This makes the black SMD ideal in display applications where contrast is key, especially in high ambient light conditions, for example in the stage with much lights, in bright sunshine…
The colors of black SMD display are much more closer to the real colors.This makes it a good choice for playing movie content where bright true colors are more demanding.
gentle brightness, good visual experience
The black SMD display with 3000nits can have better visual effect than regular 6000nits display. That means a better image visibility but with gentler brightness to eyes. It is a good choice for some outdoor toe-to toe application, for example, LED totem on entrance, mobile display on roads…
When the display is off, the black SMD has good color uniformity on appearance, which will make the display looks nice.
Indoor & outdoor application
For event rental application ,you can use the outdoor black lamp LED display for indoor as well due to the hight contrast & special electricity design. It helps for a faster ROI. 

HXTECH outdoor product with outdoor black SMD LED display :
RZ-M outdoor and indoor rental LED display
RZ-N outdoor and indoor rental LED display
S series outdoor and indoor rental LED display
SL smart light pole LED display